CTI @ Intertabac Dortmund 2019
As a part of its expansion plan to foreign markets, CTI has started to participate in trade fairs, business forums, and other activities.
Following its first appearance in the 25th Azerbaijan International Food Industry Exhibition, CTI participated at one of the biggest, if not the biggest tobacco trade fair InterTabac 2019 in Dortmund on 20-22nd September 2019. Being 2nd fair in 2019, InterTabac was the first foreign trade fair that CTI had participated in. This year more than 600 industry-related companies took place in InterTabac.
Cahan Tobacco International exhibited its product portfolio in three categories: cigarettes, hookah tobacco, and leaf. In the cigarette category, CTI offered 4 brands with more than 20 varieties. In hookah tobacco category Shakh was the only brand, for now with up to 50 flavors. In terms of the leaf, CTI exhibited mainly Virginia and Izmir Oriental tobacco leaves.
We can proudly say that all the products that were exhibited attracted a lot of interest exceeding expectations. Businessmen from countries like Germany, the UK, Ukraine, Morocco, Iraq, Syria, Poland, US, Serbia, Taiwan showed much interest in the products of CTI. Negotiations have already started after the fair and continuing in a positive direction.
Next to InterTabac, CTI prepares to participate in the TABEXPO trade fair that will be held in Amsterdam on 12-14th of November 2019.
Read about CTI @ TABEXPO Amsterdam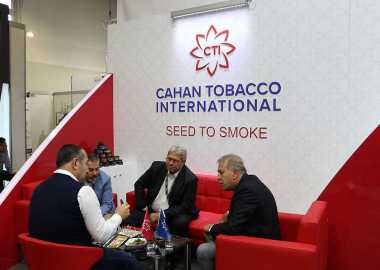 Indonesian Ambassador to Azerbaijan Mr. Husnan Bey Fananie visited CTI factory during his working visit to the Nakhchivan Autonomous Republic on April 8
Read More