Siqaret
"Cahan Tobacco International"ın illik istehsal həcmi 9 milyard ədəddir. Hazırda şirkətin məhsul portfelinə 3 formatda olmaqla 8 siqaret brendi və 80 SKU daxildir.
Daha ətraflı
Qəlyan tütünü
CTI məhsul portfelinə hazırda bir qəlyan tütünü brendi, Azərbaycanın yerli tütündən hazırlanan ilk qəlyan tütünü brendi "Shakh" daxildir. Gələcəkdə brendlərin sayının 2-yə qaldırılıb 50-dən çox dad əlavə olunması hədəflənir.
Daha ətraflı
Tütün
Cahan Tobacco International tərəfindən tütünçülükdə ən son texnologiya və aqronomiya üsulları tətbiq edilir.
Daha ətraflı
Xəbərlər
As a part of its expansion plan to foreign markets, CTI has started to participate in trade fairs, business forums, and other activities.
Daha ətraflı
Cahan Tobacco International is participating at InterTabac 2019 international tobacco trade fair in Dortmund in 20-22nd of September.
Daha ətraflı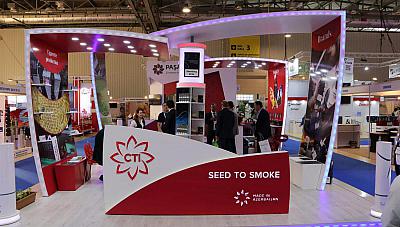 CTI took part at 25th Azerbaijan International Food Industry Exhibition on May 15-17 at Baku Expo and Convention Center.
Daha ətraflı
Üstünlüklərimiz
What makes us different?
Since its establishment, Cahan Tobacco International has had a positive impact on the region's economy in various fields. One of these fields is employment. Today, directly and indirectly 600 employees are working at Cahan Tobacco International to add value to the region's economy every day.
Quality Products
CTI has three product categories as cigarettes, shisha tobacco and tobacco.
Experienced Specialists
Experience is what CTI brings across all its stakeholders.
Company Expansion
CTI will participate in 3 international fairsduring 2019